Printemps de Terra – Terra Spring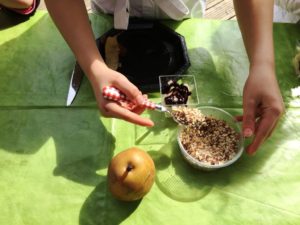 More than 200 people participated in this culinary workshop.
The aim: children learned how to prepare a simple but delicious recipe made with regional products.
The recipe: a combination of "Angelys" pears with blackcurrant puree (from Fruits Rouges & Co), sprinkled with crushed hazelnuts.
This workshop was an opportunity to discover (or rediscover) this generous "superfuit" particularly rich in aromas, flavors and color. Of course, it was also a way of promoting the blackcurrant sector ahead of the International Blackcurrant Conference of June 2018.