STEW WITH HAKE IN BLACKCURRANT PEPPER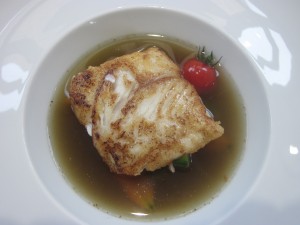 Serves 1 person
Ingredients for fish stew with blackcurrant pepper
150g fish (hake, coalfish or zander)
100g boiled vegetables (carrots, leeks, beets, onionsy)
30cl pure beef stock
Blackcurrant pepper (dried and crushed blackcurrant buds)
Preparation of FISH STEW WITH BLACKCURRANT PEPPER
Season the fish with the pepper and fry it in a pan. Boil the vegetables previously seasoned with blackcurrant pepper in the beef stock. Leave the vegetables in the stock after boiling. Put the stew in a deep plate and add the cooked fish on top.
This recipe was created by 3-Toque chef Jean-Alain Poitevin for the Inaugural Cassissium Gastro-Fete in 2012. The Cassissium is based in Burgundy France and France's gift to the world of blackcurrant epicures: a museum, heritage and trade centre for the French blackcurrant industry: www.cassissium.fr 
Recipe of Chef Jean-Alain Poitevin, restaurant le Clos Prieur, Château de Gilly, Burgundy.