Johann Bullinger from Germany relates his experience as a seasonal worker in one of the biggest blackcurrant farms in New Zealand: the Tavendale farm.
School is over – what now?
When I graduated from high school in August 2017, I decided to spend some time abroad and work for a year, before starting my studies in university. At that time, I found it difficult to decide which direction I would like to take for my career.
For this reason, I helped my uncle Michael Bullinger with his blackcurrant harvest after finishing school. (read our article on Michael Bullinger's farm) In autumn, we worked on cuttings and plant propagation. This is what I had already done the years before: I had spent a lot of time at my uncle's farm. I often worked with him on week-ends or during school holidays. I really appreciated this work, which I found very interesting and instructive.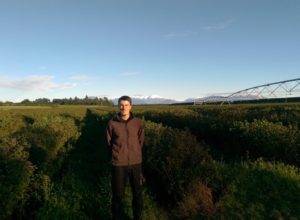 My choice of New Zealand as the ultimate blackcurrant experience
Of course, I knew that my uncle was involved in the International Blackcurrant Association and in touch with people from all over the world. This is how I came to ask him if he could help me with contacts from different blackcurrant farmers abroad. I wanted to ask them if I could work with them for half a year. The opportunity to travel to New Zealand was ultimately the most attractive. Firstly because the country itself offers unique landscapes and beautiful nature. The second reason was that the harvest there takes place in late December – which I did not want to miss.
Harvesting blackcurrants like a Kiwi