SADDLE OF HARE, PUMPKIN PULP AND BLACKCURRANT JUICE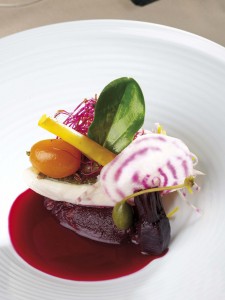 For 2 people
Ingredients for saddle of hare, pumpkin pulp and blackcurrant juice
2 saddles of hare (250 g) each
400 g pumpkin
100 g blackcurrant
1 onion, 1 carrot, 1 bay leaf, 5 juniper berries
1 liter red wine
100 g sugar
1 liter chicken broth
500 g sherry vinegar
A pinch of salt, pepper and butter
100 ml blackcurrant liqueur
Preparation of saddle of hare, pumpkin pulp and blackcurrant juice
Bake the pumpkin in aluminum foil for 30 minutes at 160° in the oven. Slice the onion and carrot and reduce them with the bay leaf, the juniper berries and the red wine until they are dry. As soon as they are reduced, wet it with the broth, sieve and put to one side.
Make a caramel and deglaze it with sherry vinegar, reduce till dry and wet it with the base of the broth and the red wine. Reduce to ¾.
Meanwhile, roast the hare with some butter for 6 minutes on a high heat and baste it regularly. Finish the cooking for 4 minutes at 100° in the oven. Take out the pulp of the pumpkin with a spoon, add 50 g of butter and the diced lemon and season it.
Finish the sauce with the blackcurrant liqueur and the fresh blackcurrants. Serve the hare covered by the blackcurrant sauce and accompany it with two quenelles made of pumpkin pulp and lemon per person.
This recipe has been created by the Auberge de la Charme, Prenois, France and is displayed and kindly shared by the Cassissium.