Miroslaw Korzeniowski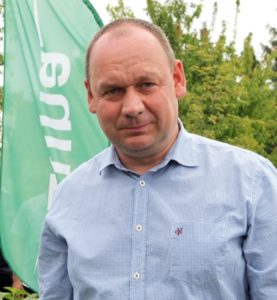 Short biography of Dr Miroslaw Korzeniowki, P:
Miroslaw Korzeniowski has been collaborating with the Polish blackcurrant association KSPCP since 2014 as an expert in crop protection, food chain and sustainable farming. In the same year, he also joined the IBA and dynamized the Agronomy Sector Group.
Education:
Agricultural and Marketing Management in AgriBusiness
PhD (Crop Protection in Horticulture) in 2016
Current Business Position in Bayer Central, East Europe & Central Asia:
Regional Crop Manager Horticulture
Food Chain Manager, Biologics Ambassador
Involvement in the IBA:
Miroslaw Korzeniowski has been part of the Agronomy & Plant Breeding Group of the IBA since 2016. He is one of the initiators of the information on plant protection products shared on the IBA website. Finally, Miroslaw has been elected to the IBA Board in 2018.