BLACKCURRANT & TOMATO SALSA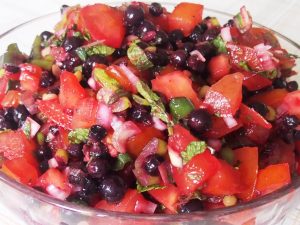 This is an exceptionally versatile salsa: its intensely vibrant colour and flavour goes well with all grilled meats, especially grilled sausages, as well as cold meats. From smoked salmon to roasted turkey cuts, this blackcurrant & tomato salsa is delightful!
It's a great way to invigorate the flavour of tomatoes. And it makes a superb vegetarian salad that can be enjoyed with a light chilled off-dry red or rose or a crisp white wine.
Ingredients for blackcurrant & tomato salsa
200g blackcurrants (this recipe is perfect for frozen blackcurrants)
4 teaspoons caster sugar
1 Tbsp white wine vinegar
Handful shredded mint leaves
400g tomatoes (skinned seeded and finely diced for an elegant salsa or chopped with skin-on and seed-in for a more robust salsa)
4 spring onions, thinly sliced
salt and pepper to taste.
Preparing Blackcurrant & Tomato Salsa
1.Put Blackcurrants in pan with sugar and vinegar, Stir over low-medium heat until blackcurrant juices start to run, sugar dissolved and blackcurrants coated in a richly purple-red sweet-sour juice (about 4 minutes: don't let it catch: slower better than hotter).
2.Take off heat and let cool. Mix all ingredients except half the shredded mint: add salt and pepper to taste.
3.Set aside for an hour before serving.
4.Sprinkle with remainder of shredded mint for serving.